Prosthodontics
at 19 Wimpole Street Dental Practice
As well as offering cosmetic and routine dentistry, we offer specialist care, including prosthodontics. This field of dentistry concerns prosthetic dentistry – in other words, dental prostheses. In full, it covers:
Crown and bridgework
Cosmetic dentistry (such as veneers)
Denture construction
Full mouth reconstruction
TMJ therapy
Our dentists aim to combine form and function – restoring the patient's ability to bite and chew while enhancing the health and beauty of their smile. Although some treatments may seem cosmetic in type, the focus is always on boosting oral health and ensuring patients can retain their teeth throughout their lives.
For more information on prosthodontics or to book a consultation, get in touch with 19 Wimpole Street Dental Practice in Marylebone, London, via our contact form or by calling us on: 020 7580 2720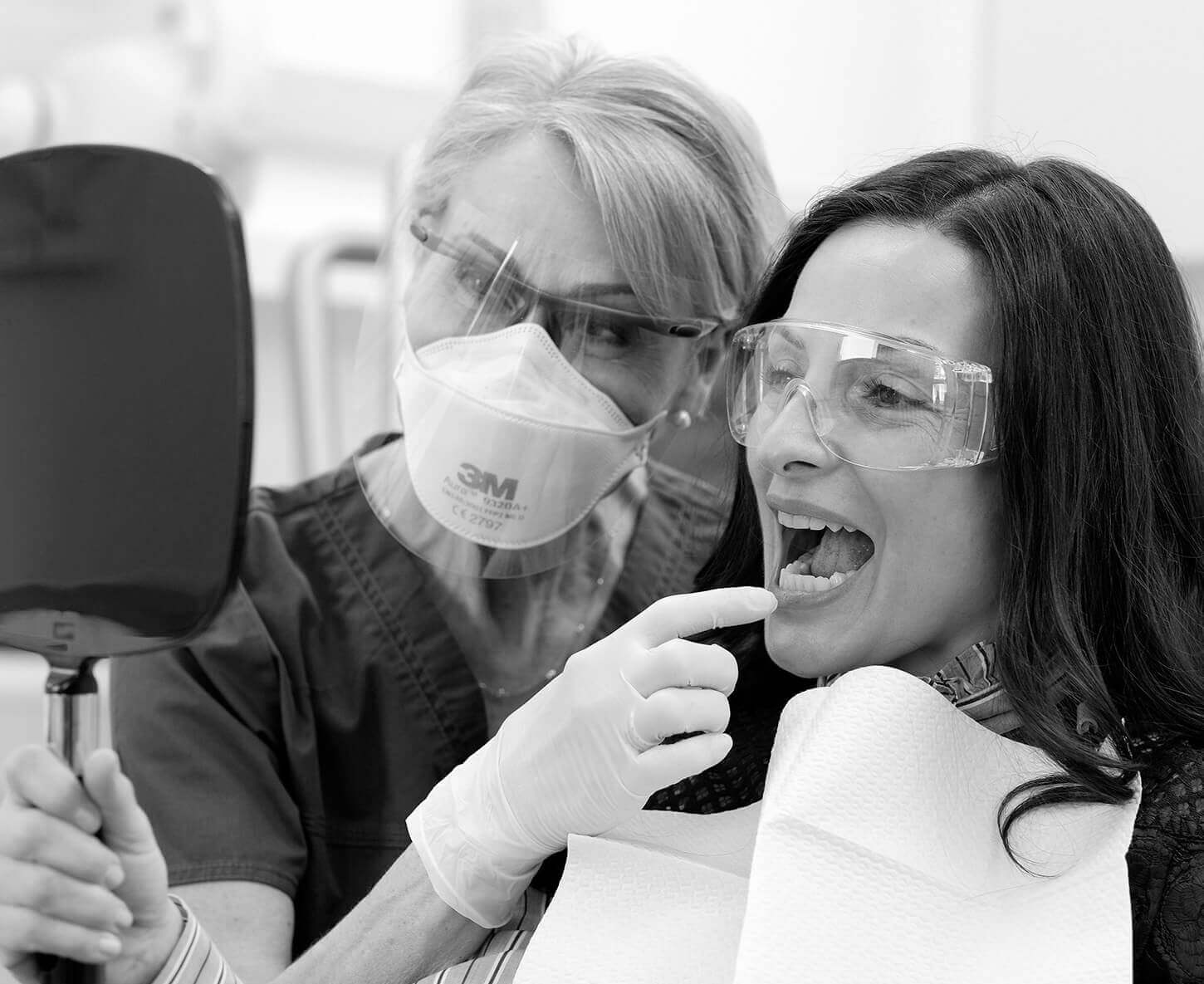 Your Dental Implant Journey
1. Consultation
The first step on any treatment journey with us is an in-depth consultation, as it helps us to assess your smile, gives us the opportunity to look over your dental history, and ensures you can discuss your treatment in advance – with absolutely no commitment. In prosthodontics, the consultation involves diagnosing causes of oral deterioration and developing treatment plans.
2. Treatment
Prosthodontics aims to provide an artificial restoration (such as a crown) which should blend with the patient's mouth, teeth and gums. Treatment could include:
3. Aftercare
We're committed to dental excellence – so in our minds, the treatment doesn't end when we put down our tools. For prosthodontic treatment, aftercare depends on the procedure or treatment you've been offered, but rest assured our expert dentists will be with you at every stage to ensure you're healthy, happy and comfortable.
Book your free consultation today
Your questions answered
about prosthodontics at 19 Wimpole Street Dental Practice
An anaesthetic is administered for any part of the process that may be painful.
Prosthodontics aims to create a natural-looking, natural-performing tooth restoration that can benefit oral health. Our team can enhance the shape and appearance of your smile through whitening, colour-matching and bonding techniques, all the while using fixed prostheses to retain or improve the function of the mouth, teeth and gums.
Our team is committed to excellence in patient care – so rest assured that you will be fully informed of any risks involved as part of the process. You can also read our pages on crowns & bridges, veneers and dental implants for more information.
The first step on your journey is a consultation, as there are certain factors that can affect suitability, such as gum disease, periodontal disease and tooth decay.
Prosthodontics can help manage and treat oral health problems concerning missing teeth and function, relating to tooth decay, gum disease and other oral problems.
Why choose us
Our Prosthodontics Specialist, Dr Ramon Badalbit, is a member of British Society of Restorative Dentistry (BSRD), British Society of Cosmetic Dentistry (BSCD) and British Dental Association (BDA), a testament to his level of commitment and expertise. We're also located in London's Harley Street medical district, home to world-leading care that attracts both national and international patients.
Meet The Team
Book your consultation
Whether you're a new patient or a returning one, we want to help your smile be the best it can be. To book your consultation, fill out the form below and we'll be in touch.