Dental Hygiene Therapy
at 19 Wimpole Street Dental Practice, Marylebone
As a family-centred private dentist, we know how important it is to establish healthy habits with our mouth, teeth and gums from an early age – and our experts can help with this, whatever your life stage.
Dental health checks and hygiene therapy, alongside a solid dental routine at home, are absolutely essential in maintaining good oral health. Not only can our team help with advice on brushing and appropriate products, but they can professionally clean your mouth, teeth and gums, and even detect dental problems early, helping prevent the need for more complex treatment in the future.
For more information on dental hygiene & therapy or to book a consultation, get in touch with 19 Wimpole Street Dental Practice in Marylebone, London, via our contact form or by calling us on: 020 7580 2720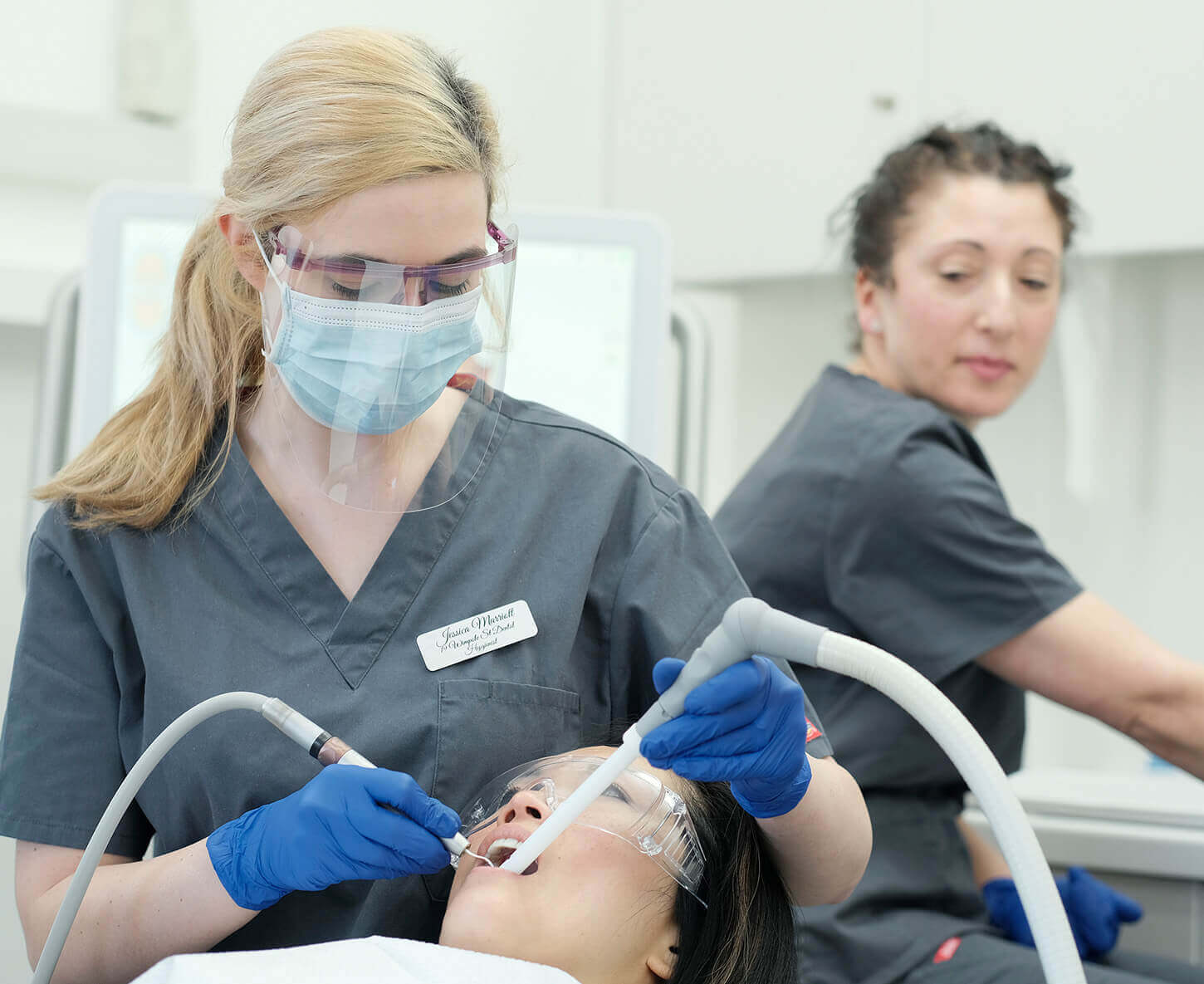 Your Dental Hygiene Journey
1. Consultation
The first step on any treatment journey with us at our Wimpole Street dental practice is an in-depth consultation, as it helps us to assess your smile, gives us the opportunity to look over your dental history, and ensures you can discuss your treatment in advance – with absolutely no commitment.
2. Treatment
One of the main parts of your treatment will be a scale and polish, which helps keep your smile bright, breath fresh, and teeth healthy. This professional clean can remove staining and calculus (hard areas of plaque) which brushing alone won't shift. In turn, this can help prevent problems such as inflammation and gum disease, as well as calculus below the gums, which can loosen the teeth. Finally, it's a chance to check for evidence of other oral health concerns, including oral cancer, signs of infection, decay and bone loss.
3. Aftercare
Our Marylebone dentists are committed to dental excellence – so in our minds, the treatment doesn't end when you leave our dental practice. Our dental experts will share tips and techniques on how to care for your smile and signs that problems may be setting in.
Book your free consultation today
Your dental hygiene questions
at 19 Wimpole Street Dental Practice
At our Marylebone dental practice, we aim for treatments to be as comfortable as possible and for some procedures, may be able to administer an anaesthetic.
It depends on your oral health, but typically, a yearly appointment is all that's needed to keep on top of your mouth, teeth and gums. Usually, an appointment lasts around 45 minutes. If you are in need of an appointment, you can book it by phone 020 7580 2720 or via our online booking system.
Our Wimpole Street dentists know great oral health is easily achievable with the correct care. Here's what you can do at home to easily help your dental hygiene:
Brush as well as floss
Ensure you brush twice daily, two minutes at a time
Keep an eye on anything unusual, such as swelling or bleeding – this could indicate a problem like gum disease or an infection
If it's your first hygiene therapy appointment with our Wimpole Street dentists, we'll carry out some detailed assessments on your general and oral health, will put together a tailored treatment plan for you, and will give your mouth, teeth and gums a professional clean. Our experts can also advise on everything from diet to ways to quit smoking.
Why choose us
Our specialists cover everything from root canal treatment (endodontics) to dental prostheses (prosthodontics). We also offer advanced technology, including intra-oral scanning with our iTero 3D camera, powerful ultra-sonic scaling methods and digital X-rays. Our practice is located in the heart of London's Harley Street medical district, ideal for those in and around the capital.
Meet The Team
Book your consultation
Whether you're a new patient or a returning one, we want to help your smile be the best it can be. To book your consultation, fill out the form below and we'll be in touch.