Invisalign Clear Braces
at 19 Wimpole Street Dental Practice, Marylebone
Many of our patients, at our Marleybone dental practice, seek straighter teeth using Invisalign, or other discreet, invisible braces. Whether it's for a smile that's affected by bite problems or gaps, or teeth that need a little tweak here and there, our dental experts have the tools, techniques and expertise needed to create a more uniform appearance – and may be able to improve your oral health at the same time.
Braces, such as Invisalign, are so common here in the UK, that over 200,000 of us try them each year. What's more, braces have become so commonplace that there's no longer the stigma attached that previous generations endured. At the same time, orthodontics has become even more creative and inventive, allowing for faster treatment times and more discreet options such as Invisalign.
For more information on Invisalign Clear Braces or to book a consultation, get in touch with 19 Wimpole Street Dental Practice in Marylebone, London, via our contact form or by calling us on: 020 7580 2720 and start your clear braces journey today!
The Invisalign Clear Braces Process at 19 Wimpole Street, Marylebone.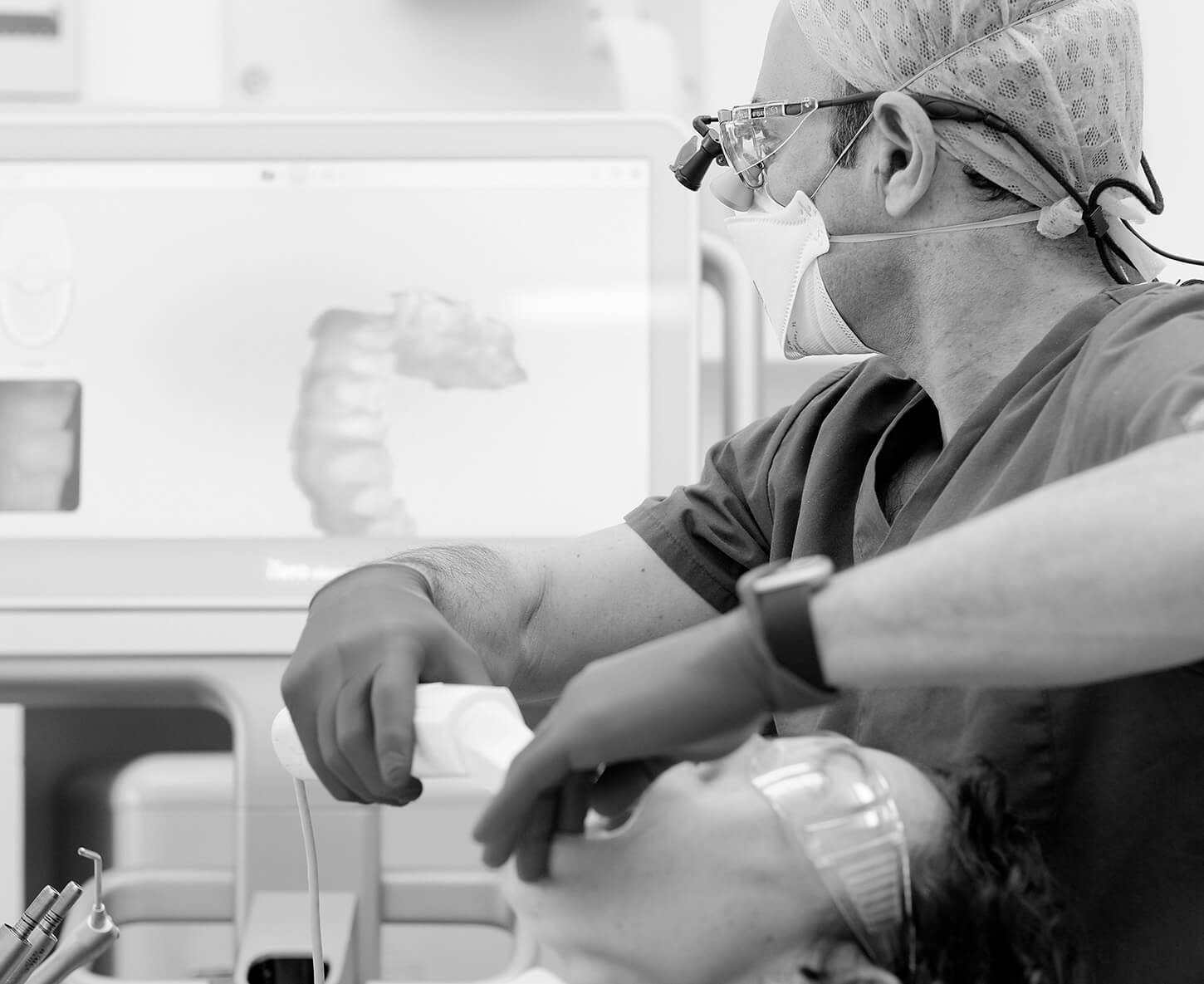 Your Invisalign Journey in Marylebone
1. Invisalign Consultation
A consultation is the first step in your Invisalign journey with us at our Marylebone dental practice. This allows us to assess your smile, review your dental history and ensures you are able to discuss your treatment in advance without forced commitment.
2. Treatment
The next stage of the process is to scan your smile with an Itero 3D scanner and possibly take X-rays and photos. Itero scan and ClinCheck software remove the guesswork from Invisalign as it maps the route to your smile from start to finish. It also allows your doctor to customise your invisible braces treatment. This helps us to create 3D images of your treatment, so you'll know what to expect at each stage and get to see your results. Next, you'll have a series of custom invisible aligners created, which you'll cycle through during treatment, ending with refinements (if required) and retainers. No moulds or impressions are needed, so there's less mess and hassle involved.
3. Aftercare
At our Marylebone dental practice, your Invisalign treatment doesn't end when you leave our clinic. With Invisalign, you'll need retainers as part of your treatment, helping ensure your teeth stay put in their new positions. We can also help you with any queries during Invisalign treatment, from how to store your invisible braces to how to clean your aligners.
Book your free consultation today
Your questions answered
about Invisalign at 19 Wimpole Street Dental Practice, Marylebone
Some patients report a feeling of pressure on their teeth when they change their aligners, but this is to be expected – after all, your teeth are being moved into a new position! Any tightness or pressure is experienced whatever kind of brace you use.
There are lots of advantages to Invisalign in Marylebone:
Can treat bite problems, gaps and crowding
Almost invisible on the teeth
Not fixed to the teeth and easy to remove
Easy to clean and store
Predictable results
App to chart progress
There are very few disadvantages to Invisalign in Marylebone :
May be more expensive than the alternatives
A refinement period may be required after treatment
Slight pressure may be experienced when changing aligners
Need to be removed for eating and dental care
Here in Marylebone, Invisalign isn't really associated with any risks, as it's considered to be a safe, effective and low-impact treatment. However, there is the possibility of the aligners becoming cracked, stained or damaged if proper aftercare isn't followed. In addition, the trays can be difficult to get used to at the start of treatment, but this is true of any type of brace.
At our Marylebone dental practice, we will always check your suitability for Invisalign, along with other criteria that can affect suitability, such as gum disease, periodontal disease and tooth decay, as well as previous dental work.
Why choose us
Our Marylebone dental team specialise in Invisalign amongst other cosmetic treatments, and have helped with hundreds of cases. Based in London's medical district, our dental practice is well-placed for locals and commuters alike and offers a state-of-the-art clinic for our treatments.
Meet The Team
Book your Invisalign Clear Brace consultation
Whether you're a new patient to our Marylebone dental practice or a returning one, we want to help your smile be the best it can be. To book your invisible braces consultation, fill out the form below and we'll be in touch.